Shopping Cart
Your Cart is Empty
There was an error with PayPal
Click here to try again
Thank you for your business!
You should be receiving an order confirmation from Paypal shortly.
Exit Shopping Cart
April Commemorations in the Lutheran Church Calendar

4/4: Martin Luther King, Jr., preacher, civil rights activist, martyr, 1968
Dr. King, a Baptist minister, was born in Atlanta in 1929. After graduate study at the University of Pennsylvania, Harvard, and Boston University, he be-came a pastor in Montgomery, Alabama, later returning to Atlanta. Influenced by the teachings of Thoreau and Gandhi, he organized the "non-violent army" in the South to implement federal civil rights laws. In a crisis in Montgomery he enunciated a principle from which he never wavered: "We will not resort to violence. We will not degrade ourselves with hatred. Love will be returned for hate." In January 1957, he organized the Southern Christian Leadership Conference. He was awarded the Nobel Peace Prize on 1964. In 1968 he went to Memphis to lead a demonstration of striking sanitation workers and there, on a motel balcony, was murdered by a racist.
4/6: Albrecht Duerer, painter, 1528
Duerer, a painter and engraver, was the leader of the German Renaissance school who, after a period of travel, settled in his native Nuremberg. His work is a close examination of the splendor of creation--the human body, animals, grasses, and flowers. He never renounced the Catholic faith but was sympathetic with the Reformation; Luther, learning of his death, wrote: "Affection bids us mourn for one who was the best of men, yet you may well consider him happy that he has made so good an end, and that Christ has taken him from the midst of this time of trouble.... May he rest in peace with his fathers. Amen."
Albrecht Durer, self-portrait, 1500

Dietrich Bonhoeffer, martyr, 1945
Bonhoeffer was born in 1906 in Breslau, the son of a psychiatrist at Berlin University, where the son began his university studies in 1924. He was a pastor briefly in Barcelona (1918-20) and then studied at Union Theological Seminary in New York. In 1930 he returned to Berlin and taught until his work was forbidden by the National Socialists. He directed a seminary in Pomerania and had great influence on the students there. He was arrested in 1943 for anti-war activities and im-prisoned. On Sunday, April 8, 1945, in Flossenbuerg prison, after conducting a service, he was taken away to be hanged. As he was taken away, he said to Payne Best, an English prisoner, "This is the end, but for me the beginning of life."
4/10: Mikael Agricola, bishop, 1557
Agricola was born in Uusimaa, Finland. He was a good student and was sent to study under Luther and Melanchthon at Wittenberg. After receiving his master's degree, he returned to Finland and became the rector of the cathedral school and then assistant to the Bishop of Turku. Upon the death of the bishop, Agricola was consecrated his successor and gradually carried out a thoroughgoing evangelical reformation. He devised an orthography which is the basis for modern Finnish spelling, prepared an ABC book and a prayer book, and translated the New Testament and the liturgy. He is remembered as a learned man, moderate and con-ciliatory, concerned for the well-being of his people.
4/19: Olaus and Laurentius Petri
Laurentius Petri Nericius, born 1499, was a Swedish clergyman and the first Evangelical Lutheran Archbishop of Sweden. He and his brother Olaus Petri are, together with the King Gustav Vasa, regarded as the main Protestant reformers of Sweden. Laurentius and Olaus had studied in Germany and met Martin Luther. At the Uppsala Council 1531, King Gustav Vasa finalized the break with the Roman Catholic Church and personally appoint-ed Laurentius as the new archbishop. The first complete Swedish translation of the Bible was published in 1541, nicknamed the Vasa Bible. Laurentius was one of the primary supervisers of the project, together with his brother Olaus and the clergyman Laurentius Andreas. In the 1560s, when the ideas of Calvin gained influence, Laurentius published several texts in which he spoke for Lutheranism.
4/21: Anselm, Archbishop of Canterbury, 1109
Anselm was born in Lombardy, c. 1033. He went to a humanistic school in France and became a monk, achieving a reputation as a teacher and spiritual director. When he visited England, he was persuaded to become Archbishop of Canterbury. For much of his career, he was caught in the conflict between church and state. A leading theologian and philosopher, he was the brightest light of learning between Augustine and Thomas Aquinas.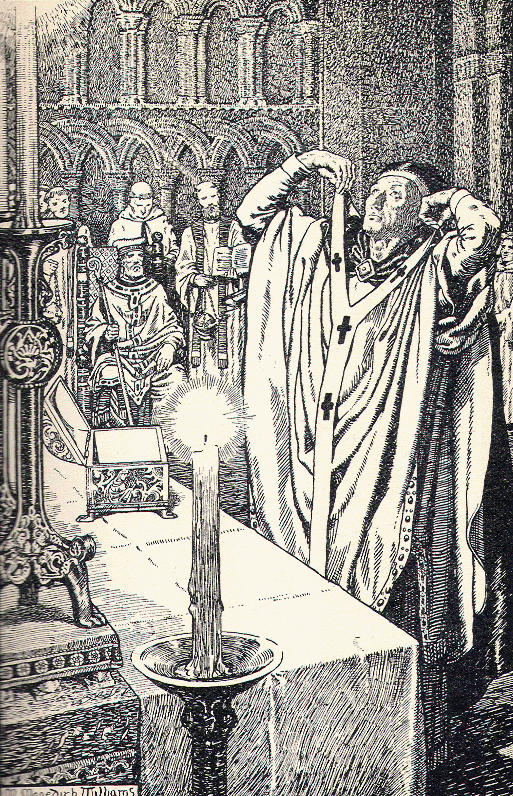 Anselm of Canterbury, by Wilmot-Buxton, 1915

4/23: Toyohiko Kagawa, Renewer of Society, 1960
Kagawa (Kah-GAH-wah) was disinherited by his wealthy Japanese family when he became a Christian. He studied at the Presbyterian Seminary at Kobe, became aware of Christian responsibility in the face of social evils, and spent several years in the slums of Shinkawa. After studying modern social techniques at Princeton, he returned to Japan to devote himself to the improve-ment of social conditions. Imprisoned in 1940 as a pacifist, he was a leader in the movement for democracy in Japan after the war.
4/25: St. Mark, Evangelist
John Mark, after breaking an association with Paul, became the companion of Peter. Papias, writing about 140 CE, calls Mark the interpreter of Peter. According to tradition, Mark was martyred at Alexandria, and in 829 his relics were moved to Venice. Mark's symbol is a winged lion, suggested by Ezekiel 1:1-10.
Winged Lion of St. Mark, Basilica de San Marco, Venice
4/29: Catherine of Siena, teacher, 1380
Catherine was born in Siena in 1346. At an early age she had visions of Christ and decided to devote her life to God. After living in a closed-off room in her family's house for three years, she emerged to involve herself in a life of doing good works. She carried on a voluminous correspondence with leaders of church and state, persuading Gregory XI to return from Avignon to Rome. She was a woman of boundless energy who dealt effectively with rulers, diplomats, and leaders of all kinds and was also loved by the common people. She died in Rome at the age of 33. Highly regarded in northern Europe, her name was retained on a number of Lutheran calendars. The Roman Catholic calendar observes her feast day on April 29, the day of her death.
/